Engine 87
Engine 87
Engine 87 is a 1996 Spartan/Central States pumper truck. It has a five man cab holding the operator an officer and three firefighters. It supplies 800 gallons of water to any scene with a 1250 g.p.m. (gallons per minute) pump. engine 87 is dispatched to any motor vehicle accident or any type of fire and does mutual aid for all surrounding towns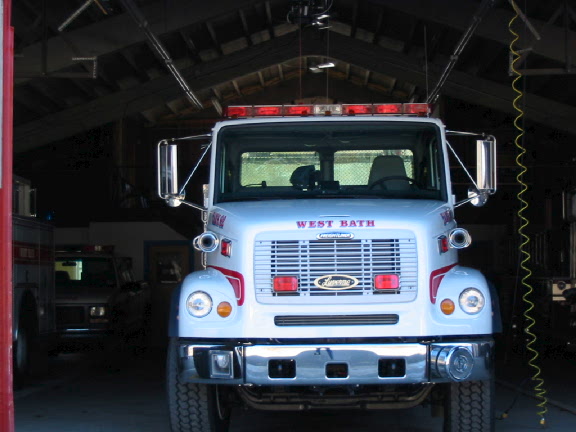 Tank 82
Tank 82

Tank 82 is a 2002 Freightliner FL-112 with a 425 h.p cat engine. It is a pumper tanker with 1250 pump and 2500 gallon tank and services as our tanker and second engine.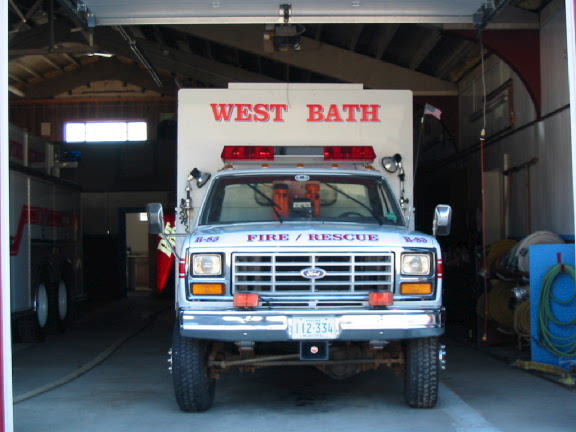 Rescue 83
Rescue 83
Rescue 83 is a 1986 Ford/Anton F-350 4x4. 8 Rescue 3 is does not transport patients we only supply BLS (Basic Life Support) until Bath Rescue Arrives. Rescue 83 does carry water rescue supplies and Extrication equipment.
Service 84
Service 84 is a 2000 3/4 Ton GMC P/U. Its only use is to transport Firefighters to fire scenes and to classes.
Brush 85
Brush 85 is a 1985 Jeep CJ-7, it carries 100 gallons of water and carries all brush equipment.